Today is my last day holiday and I met NORIAJIDOUSHA-MAN.what is noriajidousha-Man??? hahaha.. it's my version of bus-man. You know like the j-drama densha otoko. (eeeh did i get that right?) So... here's the thing. I was on the bus this afternoon; from komtar to bukit jambul. After a few minutes the bus set off from the terminal I met with the noriajidousha-Man (N-man) haha..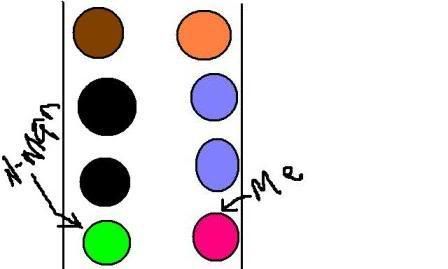 from my silly scribblings above you can see that I sit opposite N-man. Mind you this rapid penang bus seats let you sit face to face eye to eye with the other passanger and I hate it. I don't know where to look. hahaha * nanti tesalah tingu susah lg*. So the off we go fro Komtar to BJ. Yeah. Not so long drive but many people are doozing off. Maybe cause its in the afternoon. Me myself almost zzzzzzzz.... but I manage not to. Lets talk about mr N-man now. it is not like densha otoko at all. He did'nt save me or anything. 
Its just N-man fall asleep on the bus.
Why i'm so 'kepoh' want to blog about people sleeping on the Bus????!!!
BECAUSE DRIP...DROP.. DRIP.. DROP... N-MAN IS DROOLING.
Not just a simple air liur meleleh di tepi2 mulut. This is drooling menitis2 d baju... So at that I time I thought. Hmmm okay pretend I didn't see anything. But the guy sitting beside me was laughing and mumbling something to his friend. Damn I can't stop looking at N-man. Poor him but urrrghhh I also don't know what to say... His clothes have a few big and small tompok2 ... (this is what I call pemetaan... hahaha) that I can still handle so here comes the big part... 
N-man awakes.....
SLURRRRPPPP>>>>> N-man menarik air liur yg pjg.....
I almost scream.. eeuuuwww at the very moment... but once again I manage to control my emotions. I have to get the image from my head fast....
-the end-